Investors
One of the most challenging tasks after finding a piece of property is to evaluate the property to see if it makes financial sense to purchase it. Whether it is to renovate and flip the property, or rent it out for a monthly income, you have to do the math. Like most investors we have tried many software applications that claims to make the evaluation process easier. And like most investors we have never found one application that did everything a new or seasoned investor needed to make that evaluation process easy. So we solved our problem by creating our own application so anyone with access to the web can get those answers quickly.
We are proud to introduce and share with you Quick Property Evaluator by Tailwind Ventures. We offer our application simply by going to our website at www.QuickPropertyEvaluator.com.
Quick Property Evaluator works on all platforms, whether you are on a Desktop, Laptop, Tablet or *Mobile Phone; you can analyze a property in record time. You also have the ability to E-Mail or Print the completed property analysis so you can refer back to your work any time.
*Note to Mobile Phone users. Please use Landscape Orientation for best viewing and input of data into the form.
Tailwind Ventures is also pleased to announce Property Evaluator for Android.
We developed Property Evaluator to run on Android, so you can quickly evaluate a property just by pulling out your Android phone or tablet. Property Evaluator for Android lets Real Estate Investors quickly enter the property information to get a quick analysis so they can make an informed decision on whether the property makes investment sense. We designed it with a built in Mortgage Calculator, and a quick way to enter your Expenses and Income for the property. The result is an easy to read format that gives you the Monthly & Yearly Profit/Loss, Cap Rate, as well as estimated Out of Pocket Expenses that includes estimated Closing Costs. We also created a short cut link to Zillow.com and Bankrate.com so you can research that property then find the best mortgage rate right from your Android phone or tablet.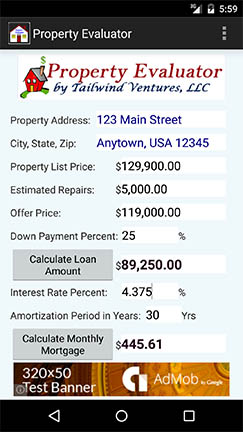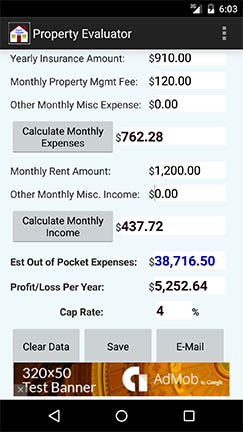 So if you are an Android phone user we know you will love and benefit from our new app. Click the link to download Property Evaluator for Android Phone from the Google Play Store.

For Property Evaluator for Android Tablet, click the link to download from the Google Play Store.

If you enjoy and benefit from using Quick Property Evaluator for the web or Property Evaluator for Android Devices, you can please support our advertising sponsors or make a donation to help support the application. This also allows us to continue to add new features as requested by our users and keep the site up and running. Thank you for your support.
Whether you are a beginner, advanced or career real estate investor we wish you great success in your quest to find profitable real estate investments and we hope
Quick Property Evaluator
and
Property Evaluator for Android
can make it a little easier for you.